Normal Hours of Operation
Storefront is currently closed, as of Nov30. See our COVID statement.
Mo-Fr 8:30-5PM, closed Sat, Sun and long weekends.
Next closure for stat holiday is for Family Day, closed on Feb 15th
Information
Plainsman Products
Clays
Materials
Glazes
Underglazes
Enamelling
Equipment
Tools
Trimming, Turning, Cutting Tools
Accessories
Magazines
Clay Bodies
SECUREURL/data/index.php

Plainsman Clays Sample Board
Click to see it full size or half size
(you may need to click on the image to expand it)
Right-click here to download sample board JPG file

Plainsman Clays has long specialized in the production of plastic clay bodies, both from the materials we mine ourselves and from imported refined minerals.

Porcelains

We make translucent porcelains having a wide range of plasticities and working properties, firing temperatures (from 1150C and up) and fired properties (differing degrees of whiteness, translucency, thermal expansion and hardness). We have the experience necessary to produce quality and consistent porcelains: it is alot about knowing which materials are most appropriate from the many choices available and about great diligence in testing and responsive adaptation to the changing properties of the materials.

Terracotta bodies

These are very popular in industry as a way to save energy (since they fire at low temperatures), for aesthetic purposes, and as a way to make strong and durable ware at the lowest possible temperatures (eg. cone 02-1). The ceramic tile industry uses huge amounts of terra cotta clays in single fire vitrifying processes. Making high quality ware with these bodies is a technical challenge. Glaze crazing and shivering, leaching, efflorescence, warping and bloating in the kiln, glaze adherence, etc are common issues. Diligence and know-how are required to be able to test and adjust terra cotta body recipes over a period of time to keep them consistent for your production department (since terra cotta raw materials are generally more inconsistent in working and firing properties). Plainsman has been mining and processing terra cotta materials and assisting customers in their use since 1975.

Stonewares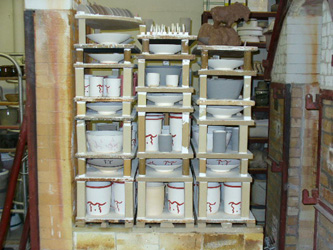 We have more experience with these types of bodies than any other. The ceramic history of our area in Canada goes back to the turn of the 20th century when stoneware clays of southern Saskatchewan were combined with the unlimited natural gas resources of southern Alberta to create a large stoneware, brick, tile and vitrified pipe industry. The sedimentary stoneware clay resources of our area are outstanding, these materials are very consistent, high in silica and have very high green strength. A wide range of vitreous and refractory stoneware materials are available from our quarries in Montana, Idaho, Alberta, Saskatchewan and Manitoba. We have more experience than anyone else in integrating this array of materials into a wide range of bodies that do not require the addition of any feldspars or quartz powders. These materials are remarkably consistent and many have been balanced by nature to have a perfect natural blend of fluxes, clay and quartz to produce a stoneware at cone 10.
Special purpose
Our clay reserves have many unusual materials that are difficult to find anywhere else. This includes very high-coal ball clays, feldspathic low temperature vitrifying buff stonewares, kaolinitic sands, illitic stonewares, iron stained and concretion containing bentonites and ball clays, very high iron stonewares, feldspathic sands and volcanic ash. With such an array of resources the possibilities are endless.